PROGRAMS AT HANFORD MILLS MUSEUM
Cooking with the Royal Bride: Cakes, Cookies, Charlottes, and Steamed Puddings
Saturday, September 26
9:30 am – 2:30 pm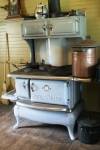 Practice cooking with wood on the Hanford House kitchen's Royal Bride cookstove in this hands-on workshop. Participants will prepare a variety of cake, cookie, Charlotte, and steamed pudding recipes from cookbooks in use in the 1920s. Soup and sandwiches will also be made as part of a dessert-heavy lunch, enjoyed by all in the Hanford House dining room.
Pamela Cooley has been cooking on wood-fired cook stoves for over 19 years, and frequently demonstrates at Hanford Mills, where she was named 2014 Volunteer of the Year. She has also done open hearth and bake oven cooking at Genesee Country Village, Landis Valley Museum, The Farmers' Museum, and Old Sturbridge Village.
The cost is $45 for Museum members, $55 for non-members.  You may register by contacting Brendan Pronteau, Interpretation Coordinator, at 607-278-5744 or brendanp@hanfordmills.org.  You may also register online.