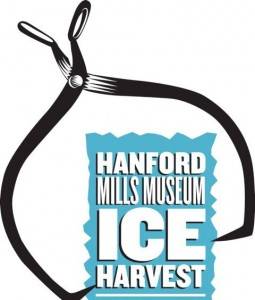 The Region's Coolest Tradition
Held each year on the first Saturday in February
February 4, 2017, 10 am – 4 pm at Hanford Mills Museum, 51 County Hwy 12, East Meredith, NY 13757
(From http://www.hanfordmills.org/)
Ice harvests were once an essential part of winter in rural communities. Before there was refrigeration, ice was needed to preserve agricultural products and to keep food cold in the warmer months.
Each year on the first Saturday of February, Hanford Mills Museum celebrates this rural tradition with the Ice Harvest Festival. Using historic tools and techniques, visitors can cut and maneuver blocks of ice from the Mill Pond, and then transport the blocks to the ice house by sled. Food, demonstrations, bonfires, and vendors round out a day of hands-on history and winter fun.
The Ice Harvest Festival  offers a variety of indoor and outdoor activities:
ice sculpting by the SUNY Delhi Hospitality Center Ice Team, see block of ice transformed into beautiful works of art.
ice fishing, the Dave Brandt Chapter of Trout Unlimited will offer kids the chance to ice fish
blacksmith demonstrations
horse-drawn sleigh rides
a hot soup buffet featuring soup from local restaurants
bonfires
cooking demonstrations
local farmers and vendors including Byebrook Farm (Gouda cheese), Promisedland Farm (handknit Swedish-style mittens and hats), the Cooperstown Distillery
films of ice harvests in the 1920s-1940s
a snowman village
painting auction: celebrated equine artist Werner Rentsch attended the Ice Harvest Festival a few years ago. He donated the painting he was inspired to make, "Ice Cutting at Hanford Mills NY" to benefit the Museum. The painting will be auctioned off at Ice Harvest. You may bid online on this painting now.
Children (12 and under) receive free admission. Museum members also receive free admission. (More information on admission and discounts.)
Did you know? The ice we harvest will be used to make ice cream at the Hanford Mills Museum Independence Day Celebration.
Hot Soup Buffet

The Hot Soup Buffet is a favorite way for visitors to warm up during Ice Harvest. At the 2016 festival, soup was donated by the Autumn Café, Otesaga Resort Hotel, Red Caboose Restaurant & Bar, Oneonta Bagel Company, SUNY Delhi Hospitality Program, Denny's, Alfresco's Italian Bistro, The Depot Restaurant and Tavern, Jay's Place,  Sloan's New York Grill, Jackie's Restaurant, Doubleday Cafe, Cafe Ommegang, Cross Roads Cafe, Delhi Diner,  Meredith Inn,  Brooks' House of BBQ,  Fiesta Mexican Grill, Danny's Market, Cooperstown Diner, Toscana Northern Italian Grill, Cantina de Salsa, Bella Michael's Restaurant, Blue Bee Cafe, Humphrey's, Applebee's, the Tulip and the Rose Cafe, Mel's at 22,  and Plaza Diner. Proceeds from the soup buffet and cookie sale (baked goods provided by Junkyard Bakehaus) benefited the Museum's educational programs.
Ice Harvest in the News
Beekman 1802 Almanac "The Ice Harvest" article in the Fall/Winter 2015 issue of this new magazine highlighted the Beekman Boys' visit to the Ice Harvest Festival, with 18 photos. "Winter isn't known for its bountiful harvests, except for one thing–ice. In East Meredith, New York, Brent and Josh made ice the old-fashioned way: slicing it from a frozen pond…"  Though the magazine is not available online, The Beekman Boys (Josh Kilmer-Purcell and Brent Ridge) also wrote about their trip to Hanford Mills Museum on their blog: A February Harvest
Binghamton Press & Sun-Bulletin article "Take Your Kids on a 'Frozen' Adventure: Museum's annual ice harvest is a cool family attraction"  "Kids and parents can recreate the magic of the opening scene from 'Frozen' by joining in on an authentic ice harvest on frozen mill pond — sing-alongs welcome…"
The Daily Star (Oneonta) article "Delhi Students to show off hand-hewn ice sculptures" talks about the ice carving demonstrations at the Ice Harvest Festival.
The Wall Street Journal featured the Ice Harvest Festival in the article Snow Balls: Five Winter Festivals Worth the Trip.
Listen to Executive Director Liz Callahan's interview on WAMC's The Roundtable.
The 2013 Ice Harvest  was featured in the first episode of SUNY Oneonta's Community Spotlight.
Read about past Ice Harvests at Hanford Mills Museum, which have had more than 1,200 people attend, at All Over Albany, The Mountain Eagle, and The Daily Star.
"It's such a slice of Americana. It's why we love living up here. It's a beautiful community event."
-Teri Borst

Thank you to Q. Cassetti for designing the Ice Harvest Festival logo.